Upto 40% energy savings verses hydraulic shuttle machines
Lower annual maintenance cost than that of hydraulic machines
Clamping from 4 to 35 metric tons
Clamp force fully adjustable
Single and double station machine with multi-cavity possibilities
Monolayer to 7 layer coex extrusion possibilities
Delivery of fully deflashed containers
Internet communications for trouble shooting
Comprehensive alarms
Construction from highest quality materials and components
Suitable for production from vials to 35 L containers
Meets or exceeds North American Safety standards
JHB EBMC
The JHB series of all electric drive blow molding machines provide low energy consumption with advantage of 40% cost saving comparing to conventional, hydraulic machines.
Power is only consumed when and operation is in progress, with only the amount of energy required to make the operation being applied.
Particularly power consumption for retaining clamping force is substantially reduced because the electricity is needed only to maintain the horizontal position of the link mechanism.

ENERGY SAVING
Energy saving is not only the huge advantage of lower production costs, but also the cleaner working, reliable system and low noise operation.
It is a pleasure for all, from operator to the end user of the product!
HIGH EFFICIENCY
By having servo motors on each axis of motion, very high position accuracy and stability in the speed of the motion can be achieved. As a result the cycle time is faster and much more consistant. Several other mechanisms that increase the quality of the bottles being produced are, parting misalignment prevention, automatic adjustment of the neck cutting position when multiple parisons are used, and
Stable molding of high quality products is enabled by unique mechanisms such as, parting line misalignment prevention which reduces the defective product rate, joystick control to assist in alignment of blowpins, and cutting stroke set by servo motors. Providing fast and efficent changeovers.
LESS MAINTENANCE COST
Thanks to using only electric and pneumatic parts JHB EBMC machines do not need oil and filter changes. Automatic lubrication is included.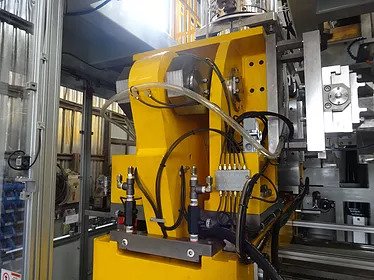 ONLINE DIAGNOSTIC
JHB all electric machines can be 7/24 connected to the internet access. Regardless your location online diagnostic allows fast diagnosis of the problem and allows the problem to be solved in the shortest time possible bringing downtime to a minimum and increasing productivity.
CLEAN ENVIRONMENT
No hydraulic pumps, no oil leakage and fumes.
JHB all electric machines make blow molding factories clean and quiet. This provides tangible benefits to both the environment, employees of production process and technicians.
MULTILAYER COEXTRUSION TECHNOLOGY
JHB All electric machines may be equipped up to 7 layers extruders
The multi-layered containers have following advantages:
To prevent weight loss of the packed product.
Regrind recycled material can be used.
Minimize migration of odors from packaging containers.
Weight saving over the conventional packaging method.
Protect against the effects of residual printing solvents in food packaging.
Allow design flexibility on plastic fuel tanks with increased safety.
Plastic fuel tanks can be molded into the complex shapes through the blow mold process.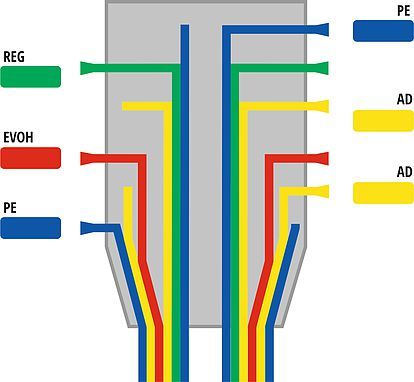 PE/PP – virgin material; REG – recycle material; AD – adhesion layer; EVOH – barrier
CONTROL PANEL & SOFTWARE
JHB's own control systems incorporate features such as constant cycle time control, automatic cutting position setup, and parison length control. Well developed software package gives the operators the nessesary infromation to ensure high productivity. Including:
Detailed alarm messages
Control of upstream and downstream equipment, including material handling and specialty equipment for post cooling and trimming
Propoitary parison length control system
Recipe saving and transfer of setups to like model machines
Those functions make the machine easier to operate and eliminate the need for skilled technicians to operate the machine.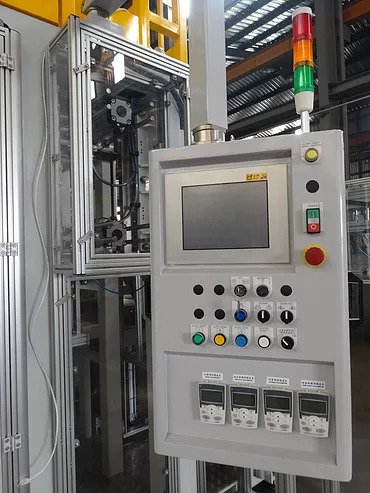 TALK TO US, WE CAN BUILD A SOLUTION THAT IS BEST FOR YOU!